Welcome to the Project Management Process Group and Knowledge Area Mapping Game.
The purpose of the game is to help PMP and CAPM aspirants solidify the memorization and association of processes to correct process groups and knowledge areas. The Game is aligned with PMBOK 6 and can be used to prepare for PMI's PMP and CAPM certification exams.
If you like this game, you may also like ITTO review and ITTO quiz game to help you review and prepare for Input, Tool & Technique and Output (ITTO) on the exams. Org Structure game is our latest game addition to help you familiarize with various organizational structures.
If you are willing to support and help us upkeep and develop new free PMP games, please consider donating to our coffee fund.
Browser Support
This process group and knowledge area mapping game should be supported by all major modern browsers, including Chrome, Edge, Safari, Firefox, Opera.
My developer and I worked hard to design and make this game responsive. If you notice any issues (or new PMP game ideas), please use the Contact Form and provide as much detail as possible (ex. Device, OS, Browser version, etc).
How to play the Process Group and Knowledge Area Mapping Game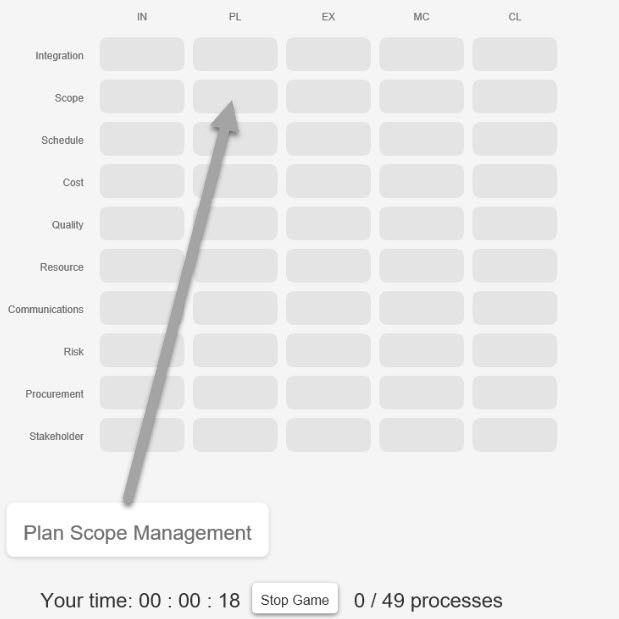 You will need to drag the project management process into the box corresponding to the correct knowledge area and process group mapping.
If you answer correctly, the box will display in green color. If you answer incorrectly, the box will display in red color and you have to try again until you answer correctly.
The score and report will display once you finish or stop the game.
Ready – Set -Go!