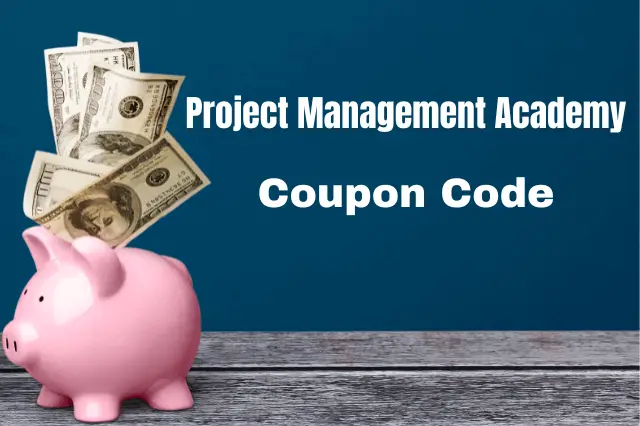 Last Updated on November 10, 2023 by andrewshih
If you are looking for a Project Management Academy coupon code to save money on PMA's live boot camp courses, including PMP, CAPM, PMI-ACP, CSM, and CBAP, we have the coupon code for you.
Using the code ASPIRANT200, you can save an extra $200 on these popular boot camp courses. The exclusive coupon code offers the best savings. Be sure to use the promo code and the link provided to take advantage of this incredible offer!
At PMAspirant, we are always happy to provide exclusive savings opportunities to our followers.
| | | | |
| --- | --- | --- | --- |
| | | | |
| | Save $200 on PMP boot camp course | | |
| | Save $200 on CSM boot camp course | | |
| | Save $200 on PMI-ACP boot camp course | | |
| | Save $200 on CSM boot camp course | | |
| | Save $200 on CBAP boot camp course | | |
Disclaimer: PMAspirant is affiliated with Project Management Academy. If you decide to make a purchase via the affiliate link, PMaspirant may earn a small commission at no additional cost to you. Please review the full affiliate disclaimer.
Project Management Academy Coupon Codes
PMP Coupon Code
If you're looking to become a certified Project Management Professional (PMP), the Project Management Academy offers a comprehensive training program to help you prepare for the exam. Their course is designed to break down complex project management concepts into easy-to-understand explanations, using real-world examples and interactive quizzes to reinforce your understanding. By the end of the course, you'll feel confident in your knowledge and well-prepared to pass the PMP exam.
CAPM Coupon Code
The Project Management Academy offers the Certified Associate in Project Management (CAPM) certification boot camp that fully prepares candidates for the CAPM exam. This certification is a great choice for recent college graduates and young professionals looking to stand out in a competitive job market. With the CAPM certification, you can distinguish yourself and show potential employers that you have the skills and knowledge needed to succeed in project management. Plus, unlike the PMP certification, there is no additional work experience required to sit for the CAPM exam.
Live CAPM Course
$200 OFF
PMI-ACP Coupon Code
PMA's PMI-ACP exam prep course not only prepares you for the certification exam, but also teaches you the principles and practices of agile, including Scrum, XP, and Lean. And now, with our exclusive coupon code, you can save even more on your PMI-ACP exam prep. Don't miss out on this opportunity to advance your career in project management!
Live PMI-ACP Course
$200 OFF
CSM Coupon Code
PMA's two-day CSM course covers everything you need to know about the Scrum framework, including Agile principles, ceremonies, artifacts, and roles. The experienced instructors will guide you through exercises, discussions, and case studies to ensure you have a thorough understanding of Scrum.
CBAP Coupon Code
PMA's comprehensive workshop, taught by certified CBAP professionals, will help you focus on the critical areas to study and provide insights into the exam. With over 1,200 sample CBAP exam questions and current knowledge outlined by the latest Business Analysis Body of Knowledge (BABOK® Guide), you'll be fully prepared to pass on the first try. Plus, PMA will provide test-taking tips and strategies, along with practice exercises to reinforce the material. Don't miss out on this opportunity to advance your career.
Live CBAP Course
$200 OFF
How to use Project Management Academy Coupon Code
To take advantage of the Project Management Academy coupon code, follow these easy steps:
Click on the link provided
Enter the coupon code ASPIRANT200
Click Apply. It's that simple!

By applying the Project Management Academy coupon code, you can enjoy instant savings on your purchase. The discount will be reflected in your total cost as soon as you enter the code during checkout.

Investing in your project management skills is an investment in your career. With our exclusive Project Management Academy coupon code "ASPIRANT200," you can get top-notch training experience with the best savings. Don't miss this opportunity to unlock your potential and elevate your project management expertise!
If you are not sure if Project Management Academy is right for you, please refer to our in-depth Project Management Academy review and the side-by-side comparison with other training providers.