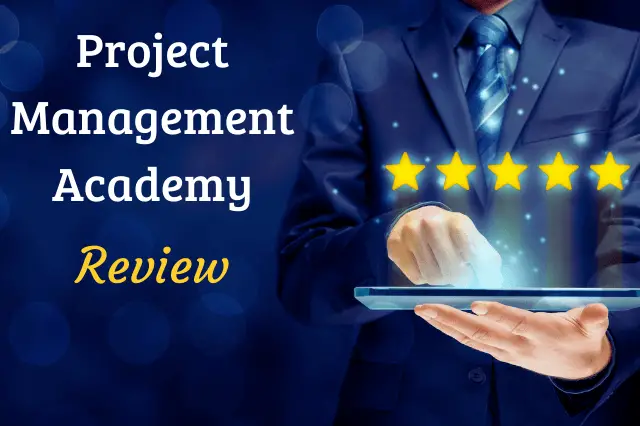 Last Updated on February 19, 2023 by andrewshih
What is Project Management Academy
Project Management Academy (PMA) is a Premier Member of the PMI Authorized Training Partner (ATP) program, and the leader in project management training with over 100,000 trained alumni. 98 of the Fortune 100 companies trained with PMA, including companies such as Amazon, Google, and Microsoft.
PMA hosts over 100 in-person and virtual classes monthly and has over 75 live locations nationwide for hosting in-personal classroom training throughout North America. PMA also has a fantastic roster of over 65 instructors with 20+ years of project management experience.
Project Management Academy Coupon Codes
I try to work with training providers to give my PMAspirant patrons exclusive savings when possible. I am happy to secure an exclusive Project Management Academy coupon code ASPIRANT200 and help you save an extra $200 for PMA's popular live boot camp courses, including PMP, CAPM, PMI-ACP, and CBAP.
If you are only lending on this page because you want to find the Project Management Academy coupon code and save money, here it is. Be sure to use the link and enter the coupon code to get the saving.
Disclaimer: PMAspirant is affiliated with Project Management Academy. If you decide to make a purchase via the affiliate link, PMaspirant may earn a small commission at no additional cost to you. Please review the full affiliate disclaimer.
How to use Project Management Academy coupon code
Using the Project Management Academy coupon code is very simple. Please use the link provided, enter the coupon code, and Apply.

Once you apply the coupon code, you will see the saving immediately as shown below.

I hope you enjoy the saving!
The following Project Management Academy Review is for the PMP boot camp course. Please read on if you want to learn more about the Project Management Academy's boot camp course and find out if the class is right for you.
Project Management Academy Differentiators
Here is a short video created by Project Management Academy that highlights its differentiators.
Project Management Academy Boot Camp Courses
Project Management Academy offers three different PMP Boot Camp training packages – Basic, Advanced, and Premium.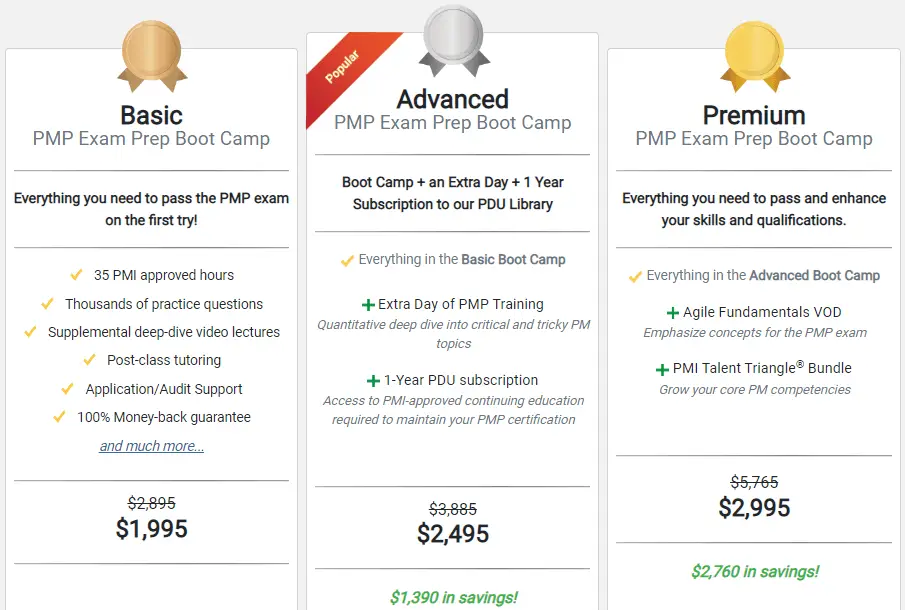 Basic PMP Exam Prep Boot Camp ($2,895) $1,995.
$35 PMI approved hours
2000 practice questions
Supplemental deep-dive video lectures
Post-class tutoring
Application/Audit Support
100% Money-back guarantee
$900 in savings with Basic package
Advanced PMP Exam Prep Boot Camp ($3,885) $2,495. [Most Popular]
Everything in the Basic Boot Camp
Extra Day of PMP Training – Quantitative deep dive into Critical and Tricky topics
1-Year PDU subscription – PMI-approved PDU to maintain your PMP certification
$ 1,390 in savings with Advanced package
Premium PMP Exam Prep Boot Camp ($5,765) $2,995.
Everything in the Advanced Boot Camp
Agile Fundamental Video-On-Demand – Emphasis concepts for the PMP exam
PMI Talent Triangle® Bundle
$2,760 in savings with the Premium package
Here is a quick preview of the online BootCamp course:

PMP Exam Prep Material
Students from all three PMP boot camp courses will receive the following comprehensive training materials.
PMP Exam Prep Training Guide

The master guide for the boot camp class.

A PMP Exam Prep Strategy Guide

The strategy guide covers topics to help you prepare for the exam, such as formulating a study plan, 10 testing tricks, 25 common confusions, and what to expect on exam day.

PMP Exam Prep Quick Study Guide

The handy quick reference guide is color coded with essential terminology and charts.

Process Group and Key Formulas

Essential formulas and a chart of the 49 processes by knowledge areas and process groups.

Primary ITTO chart

ITTO reference that is color and number coded.

PMI Authorized PMP exam Prep study manual

This study manual is only available for students with PMI Authorized Training Partners.

PMP Exam prep full-length mock exam

A mock exam is available at the end of the class. The exam is auto-graded and breakdown by domain and task areas to help you spot areas to improve.

PMP Exam Prep Online Supplemental Deep-Dive video lectures

Over 12 hours of video lectures can be downloaded so you can view them anytime and anywhere.

1800+ PMP Exam prep practice questions

In addition to the full mock exam, you also have 1800+ practice questions you can take as many randomly drawn questions as you want. The result will show the breakdown and progress over time.

Project management sample forms

A packet of template forms for important project management plans and documents.

Over 350 digital PMP terminology flashcards

Online flashcard with both predictive and agile terminology.

PMP exam prep formula cheat sheet

One reference sheet of all the formulas you need to know for the PMP exam.

PMP exam prep book of exercise

Downloadable exercise book with the answer key that you can practice such as matching, filling in the blank, crossword puzzles, etc.
Project Management Academy Pros & Cons

PROS
Application and audit support
Once you are in the boot camp program, PMA will take good care of you from the beginning to the end of your PMP certification journey. You will get the support to complete your PMP application and assistance if you are selected for audit.
As a side note: An audit may sound terrifying as you probably have never been audited before. Even if you filled out the application honestly and correctly, PMI can still randomly select your application for audit. I created this blog to help you complete the PMP application with plenty of project description examples and audit preparation after going through the PMP application and audit process myself.
Small class size
The average class size is limited to 10 ~ 15 students. A small class size is helpful to get more of your questions answered and assistance from the instructor. It will be a more enjoyable experience and less time wasted due to managing and accommodating a bigger audience.
It will likely be easier to build connections and friendships with other students when the size is smaller, which may help your career down the road.
Guarantee to run
The vast majority of the training providers will cancel your class if there are not enough students registered for the same class because there is not enough return on investment. The cancellation and change of schedule can be very annoying for the students. After all, the student most likely has to clear the work and personal calendar to block out those days to attend training.
Not the case for Project Management Academy – once the class has a "Guarantee To Run" label, PMA will not cancel the course even if you end up being the only student in the class.
Reschedule the class as many times as you need
You are allowed to change your boot camp class as many times as you need to fit your schedule. However, it is highly recommended that you provide at least 7-day advanced notice as a courtesy.
Most comprehensive training resources and material
Project Management Academy offers the most comprehensive training material among all the training providers I've reviewed, including PMTraining, GreyCampus, PM-Prepcast, and Simplilearn.
You can see from the list above that the training resources include videos, a training guide, exam simulator, a formula guide, cheat sheets, flashcards, and more. Whether you are in front of a computer or on the go, resources are available to immerse yourself in the PMP learning mode.
Includes project management sample forms
This is a unique study resource provided by PMA, and it can be beneficial for visual learners.
It's one thing to know what a risk register or project charter is. However, it's another level of learning when you can visually see sample risk register and project charter forms and try to fill them out yourself. This will surely help you solidify your understanding of the tools and techniques. Moreover, those sample forms can serve as useful templates for your project management career.
Post-class support
Project Management Academy offers the best post-class support among PMP boot camp training providers. PMA offers both free tutoring webinars and one-on-one instructor support for the students.
The free tutoring webinar is on every Friday at 3:00 pm EST time. The student can register for these GoTOWebinar from the student learning portal, and the student can ask any questions during the informal Q&A session.
In addition to the weekly webinar, you can send an email to the instructor, and the instructor on call for the week will answer your email for up to 6 months.
Money-back guarantee policy
The money-back-guarantee is quite simple. If failed the PMP exam 3 times within 120 days after you complete the course, Project Management Academy will refund the full tuition, provided that you attended the full course, completed the mock exam, and three full-length practice exams from the student portal.
Generous exclusive coupon code
I have to say Project Management Academy is the most generous training provider willing to work with affiliates to provide exclusive coupon codes with significant savings for the students and without a time limit. It's a win-win-win for everyone. Nothing beats a happy customer who is getting great values and top-quality training.

CONS
The course is pricy
The live and online PMP boot camp course is expensive. If you have a tight budget and prefer on-demand learning, there are cheaper alternatives for getting PMP certification.
Many students are probably sponsored by their companies and do not have to worry about the price tag. However, a live boot camp course is likely better for you if you prefer a classroom and structured learning environment with an instructor and peer support along the PMP certification journey.
Not able to cancel the purchase after 24 hours
Make sure you are committed to passing the PMP exam with PMA. The course purchase is non-refundable after 24 hours from the time of purchase. You do have the option to reschedule as many times as you need at no additional fees, put in a voucher for future use, or transfer the course to your colleague.
Limited information about the instructors
Project Management Academy only lists a few instructors with their bios on the website. A student may want to know who the instructor is and review the bio. It will be beneficial if PMA can include a bio for each instructor and include the instructor's name on the registration page.
This is an area that can be improved because the instructors are one of PMA's key strengths. Project Management Academy has an amazing 4.8/5.0 rating from hundreds of Project Management Academy reviews on TrustPilot and the common theme has been the instructors getting praised by the students who took the course. There is no question about the quality of PMA's instructors.
Project Management Academy Review Verdict

While the Project Management Academy (PMA) Boot Camp program is pricy, you are getting white-glove service from helping you with the PMP application all the way to post-class support. The course has the most comprehensive course training material, and its guarantee to run policy, small class, and high instructor qualification are a few factors that justify its price.
If you are able to afford Project Management Academy's boot camp course or your training is sponsored by your company, you are in good hands with the leader in project management training.
If you want to check how the PMA's boot camp course compares to other providers, check out this comparison chart.
Project Management Academy Review
Summary
If you are looking for PMP training with a top-notch instructor and comprehensive course material in a smaller class size that is guaranteed to run, Project Management Academy (PMA) is your best choice. You won't have to worry and deal with last-minute cancellations like other providers.

If you value your time and enjoyable training experience more than spending a bit extra money, you should consider PMA's PMP boot camp training.
Related Articles