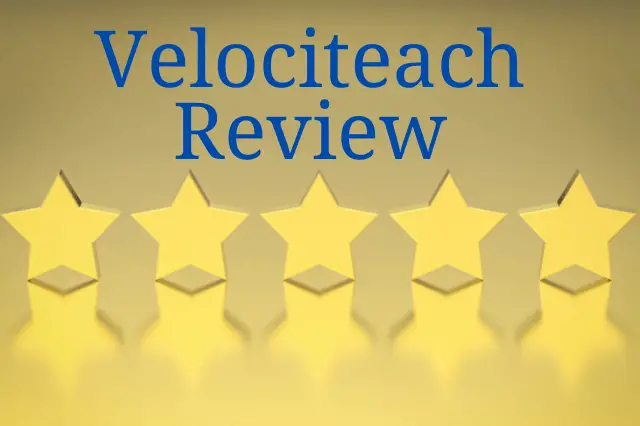 Last Updated on March 2, 2023 by andrewshih
In this Velociteach review, we will cover a quick overview of the company, its PMP self-paced course, PMP boot camp course, the pros and cons, and exclusive discount code if you think Velociteach training is right for you.
What is Velociteach?
About Velociteach
Velociteach is the leading provider of professional development and certification training for project management professionals. Andy Crowe left his high-profile career and founded Velociteach in 2002, with the headquarter in Kennesaw, Georgia.
Velociteach offers a wide selection of project management classes, e-learning programs, and certification exam prep courses. Velociteach dedicates to helping students pass the rigorous project management certification exams and inspiring personal and professional growth.
Expert Instructors
Instructors at Velociteach are all esteemed project management experts with decades of industry experience with multiple project management certifications. To ensure the highest training quality, all the instructors undergo weeks of the rigorous multi-step selection process and are hand-picked by Andy Crowe himself.
Training Trusted by Industry Leaders
Velocity's project management training has been trusted and recognized by many of the world's leading companies, such as Accenture, Adobe, BCBS, eBay, Johnson & Johnson, FedEx, Home Depot, MetLife, Merk, Nike, Siemens, Verizon, and many others.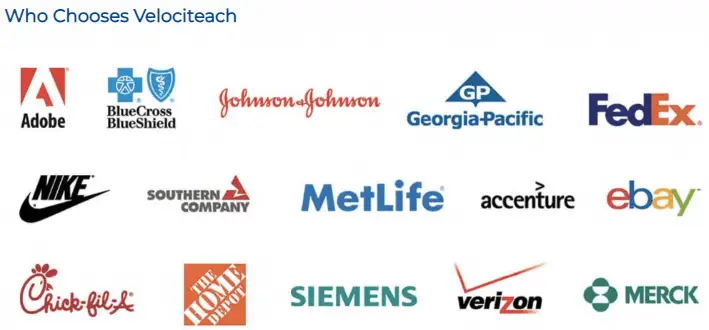 Awards
Velociteach has won several awards both locally and globally for its achievement in project management and contributions to the local community. Some of the awards include:
Velociteach Self-Paced PMP Courses
Velociteach offers two self-paced PMP exam prep packages. The courses are aligned with the latest PMI Project Management Body of Knowledge and the Exam Content Outline (ECO).
The main difference is that the complete bundle provides 3 additional full PMP exam practices and extra PDU hours. Each of the full practice exams is equivalent to 4 contact hours, for a total of extra 12 contact hours.
Velociteach offers a monthly subscription model for its self-paced training courses. If you plan to complete the PMP training and take the PMP exam within 1 to 3 months, this training option can be an economical choice. If you are not sure about the course, Velociteach offers a 1-Day free trial to take a peek at the course.
According to Velociteach support, your subscription will automatically expire after the expiration date, and you can manually renew if needed. Therefore, Velociteach will not surprise you with extra unwanted subscription fees that frequently happen with other training providers.
Velociteach discount code for self-paced training
PMAspirant is pleased to work out with Velociteach to provide an exclusive coupon code PMASPIRANT10 that will save 10% when you purchase the self-paced training course. You can use this coupon code up to 3 times if you need to renew the monthly subscription.
Self-Paced Training + Simulator
Satisfy contact hour requirement and exam prep.
Use PMASPIRANT10 exclusive coupon code to get extra 10% savings.
Certificate of Completion

Process Matrix Worksheets

Earned Value Practice Exercises

Interactive Process Explorer

Project Plan Stack Exercise
Velociteach PMP Boot Camp Training
Here is a quick video that offers an inside look at the Velociteach's virtual PMP boot camp training.
Velociteach boot camp training material
With Velociteach boot camp training, you will receive the following training materials.
35 contact hours with the certificate of completion.
The PMP Exam: How to Pass on Your First Try
Students will receive a physical copy of Andy Crowe's best-selling book – The PMP Exam: How to Pass on Your First Try.
The book also includes access to over 60 short videos.
Course workbook
4-day boot camp training workbook containing quizzes, exercises, and interactive lessons
12 comprehensive memory device aids
The memory device aids are color-coded mind maps for associated with each of the Knowledge Areas
E-learning self-paced training
6 months of access to Velociteach's online learning system. The eLearning contains audio and video training models, additional practice questions, handouts, and additional exercises.
The eLearning also includes fundamental courses on Earned Value Management, Schedule Network Diagramming, and the Strategy of Project Selection.
Flash Card Mobile App
You can study on the go with your Android or iOS devices.
Quick Reference Guide
8 pages laminated quick reference guide with key concepts.
Audio MP3s
Audio discussions by Andy Crowe, Louis Alderman, and Bill Yates. The conversations cover exam topics to study, strategies, and tips.
1800+ PMP practice exam questions
A total of over 1,800 PMP exam prep questions are available online through the eLearning system and the textbook.
Pre-Class Webinar
The Pre-class webinar should be watched prior to class starts t to set expectations and answer common questions.
PMP application and audit support
Tools and assistance are provided to help students with the PMP application and audit.
Post-class support
The student is entitled to 1 year of support from the class start date, including creating a customized study plan if a student fails the exam, re-enroll in the upcoming training class and instructor support.
Complimentary classroom supplies
Students receive complimentary classroom supplies, including a pen, highlighter, and marker. It shows thoughtfulness and attention to detail.
Velociteach discount code for PMP Boot Camp training
The standard price for the PMP boot camp training is $2,447.00.
If you consider the price alone, Velociteach is not cheap compared to other PMP training providers. However, Velociteach offers top-quality training packages, and the price is justified.
PMAspirant is also pleased to work out an exclusive $450 discount with Velociteach for you, if you register for the class with our coupon code ASPIRANT450 and our referral link.
Velociteach All-in-One PMP exam prep kit
This video walks you through the exam prep material that you will receive as part of the PMP boot camp training.
Velociteach Pros & Cons

Pros
Solid training instructors
All Velociteach instructors have at least a decade of project management experience, and most have more than 2 decades of experience.
The instructors all went through the rigorous multi-step selection process and held multiple project management certifications. All the instructors are hand-picked by Andy Crowe himself. Becoming a Velociteach trainer is much more difficult than becoming a PMI-certified ATP trainer.
Comprehensive training package
Velociteach provides one most the most comprehensive training material in the marketplace.
For self-paced learning, you will have access to the training videos, exam simulator, offline practices, formula sheets, process matrix, and checklist.
With the live boot camp training, you will receive a copy of Andy Crowe's book, workbook, 1800+ practice questions, many study aids, eLearning access, flashcards with mobile access, and more.
Best support experience
Having interacted with plenty of project management training providers, I can confidently say that the Velociteach support team is the most responsive and helpful support I have worked with.
I get all my questions answered in a timely matter. The responses are professional and helpful. The support team is also open to suggestions and even went the extra mile to provide an exclusive coupon code and demo video on YouTube to help me better serve you.
With the boot camp course, you will receive PMP application and audit support. You have one year of instructor support and can re-enroll in class at no additional cost if you did not pass the PMP exam.
Velociteach is genuinely there to support you and help you accomplish your goal.
Personalized study plan if failed the PMP exam
If you attend the PMP boot camp and fail the first PMP exam, Velociteach will review and help you create a personalized study plan based on your PMP exam result and let you attend another class for free.
While other training providers may allow you to re-enroll in a training class, Velociteach goes the extra mile to create your customized study plan. The idea is that you may need additional help or strategy to address the weak areas and not just attend another class.
All classes are guaranteed to run
To attend the boot camp training, most likely, you will need to plan and block time to attend the class. Many training providers will cancel the class if there is insufficient enrollment, and it can be a major inconvenience for the student.
All the Velociteach classes are guaranteed to run, so you do not have to worry about your classes getting canceled at the last hours. Keep in mind that Velociteach reserves the right to change the in-person class into a virtual training if there is not enough enrollment.
Best money-back guarantee in the industry
Velociteach has the best money-back guarantee if a student fails to pass the PMP exam. Velociteach would provide all the necessary support to help the student prepare for the PMP exam, including creating a personalized study plan if the student failed the first test.
If the student fails to pass the PMP exam after 3 attempts within one year from the class start date, Velociteach will refund 100% of your tuition. There are no fine prints.

Cons
Bootcamp training is pricey
Velociteach is a bit more expensive if you only care about the price tag. If you are looking for the cheapest PMP boot camp package and don't mind aggressive sales pitches and subpar support, Velociteach is not for you.
Quality boot camp training is not going to be cheap. If you compare the comprehensive training course, instructor quality, support, and guarantee, the price is reasonable for the top training quality and support you will receive.
Subscription pricing for the self-paced learning course
Depending on how disciplined you are, subscription pricing can be both an advantage and a disadvantage.
If you can complete the training and pass the PMP exam within 1-2 months, the self-paced course can be an economical choice. However, it can become quite costly if you plan to take more than 3 months to complete the PMP certification.
Practice questions not all in one place
In the boot camp package, you will have access to a total of over 1800 practice questions. The questions are from both the Velociteach InSite eLearning management system (LMS), the textbook, and the course workbook. However, with the InSite LMS, you will have access to 1100 practice questions online.
Velociteach Review: PMP Self-Paced Training
Velociteach Review for PMP Self-Paced Training

Product Features
Summary
If you have the discipline and plan to conquer the PMP exam within 1 to 3 months, Velociteach self-paced training package can be an economical choice. The basic package offers a solid eLearning course and includes 500 practice questions. However, if you need more than 3 months, the cost of the subscription will add up quickly.

Make sure you use discount code PMASPIRANT10 to get extra 10% savings on the subscription.

Velociteach Review: PMP Boot Camp Training
Velociteach Review for PMP Boot Camp Training

Product Features
Instructor Transparency & Qualification
Summary
If you are looking for top-quality PMP boot camp training. This is it! Esteemed instructors, all listed classes are guaranteed to run, solid training package, top-notch support, and the best money-back guarantee with no strings attached.

Rember to use the exclusive coupon code ASPIRANT450 to get an extra $450 in savings.

FAQ
Is Velociteach an Authorized Training Partner (ATP)?
Velociteach is a reputable project management training provider and a longtime supporter of PMI. However, Velociteach chose not to join the ATP program after an extensive research and discovery period.
To join the ATP program, Velociteach would have had to abandon all of the content, methods, materials, eLearning, and course presentations the company had developed and invested in over many years. To abandon their tried-and-true content to deliver third-party content that they did not develop didn't seem in the best interest of their students.
Therefore, Velociteach decided not to join the ATP program. They wanted to continue to provide content that has been tested over time and has proven effective, and they wanted the ability to enhance the content if needed to serve their students better.
What happens if I need to renew and extend self-paced training?
You can renew the training and purchase an additional month if you need more time to access the training material. You can re-use the same exclusive coupon code and the link provided to renew your course access.
Can I re-sit in another class without taking the exam?
If you already attended the CAMP or PMP boot camp class and want to re-sit in another class without taking the exam first, you can do so within 1 year but will need to pay an additional $500 dollars.
Can I reschedule my Veociteach boot camp class?
You can reschedule the class for free if you make the request 15 or more days before the class starts. If you reschedule the class between 14 days and before the class starts, there is a $250 rescheduling fee. There is a $500 fee when you need to reschedule on or after the first day of class,
What is Velociteach's cancellation policy?
If you cancel the class 30 days or more before the class start date, you can get a full refund minus $500 to cover the cost of the training kits and materials, assuming you received those materials. Any cancellation within 30 days is not refundable, but you can reschedule the training.
Related Articles