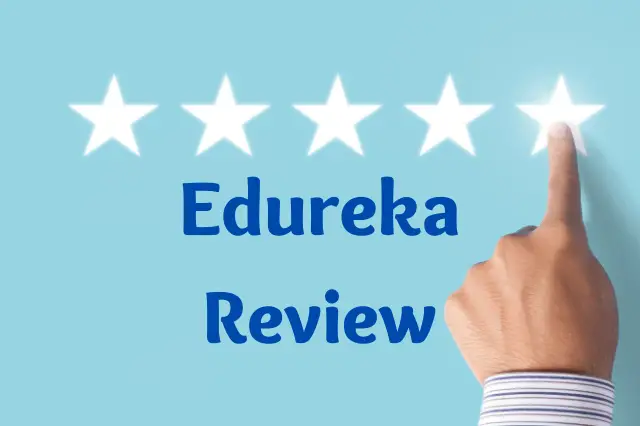 Last Updated on February 5, 2023 by andrewshih
Are you looking to advance your project management career and wondering if the Edureka training course is right for you?
In this Edureka review, we will take a close look at Edureka's PMP training courses, pros, and cons, and help you determine if this training program is right for you.
Disclaimer: PMAspirant is affiliated with Edureka. If you make a purchase, we may earn a commission at no extra cost to you. Please review the full affiliate disclaimer.
What is Edureka?
Edureka is an online learning platform that provides professional certification courses and IT training to individuals and corporate clients.
According to Wikitia, the company was founded in 2011 and is based in Bangalore, India. Edureka offers classes in various technology-related fields, including Big Data, Cloud Computing, Artificial Intelligence, project management, and more. The platform's courses are designed to be flexible and self-paced and are taught by industry experts.
Edureka also provides 24/7 support to students, ensuring they receive the help they need to succeed. With a strong focus on learner satisfaction, Edureka's goal is to make high-quality education accessible to anyone, anywhere, anytime.
Is Edureka Legit?
Edureka is a legitimate online education provider certified by PMI as an Authorized Training Partner (ATP). In addition to project management courses, it offers a wide range of IT and non-IT courses, including data science, cyber security, software development, and more.
Edureka has a strong reputation in the online learning community and has helped many students and professionals improve their skills and careers. However, as with any education provider, it's essential to research and evaluates their course offerings and quality to ensure they meet your learning needs and expectations.
Edureka PMP Boot Camp Training Course
Edureka's PMP training program follows a comprehensive and well-structured roadmap provided by PMI to help students prepare for the PMP certification exam.
Complete 35 Contact Hours requirement
Like other training providers, this program consists of modules covering all essential topics and concepts related to project management and satisfies the 35-contact-hour requirement to sit for the PMP exam.
Live Interactive Learning
Edureka PMP training offers a highly interactive learning experience with PMI-certified instructors and mentoring sessions via virtual classrooms.
Hands-on project-based learning
The course includes training videos, quizzes, and assignments to reinforce the concepts and provide hands-on experience. Here is a sample PMP training video from Edureka.
During the class, you will have hands-on opportunities to work on:
Exercises to form a high-performance team.
Exercises to develop and manage the project plan
Exercises to execute the project and manage the risk
Exercises to lead a team and resolve conflicts so the project can stay on track.
Exercise in maintaining a business environment
The hands-on exercises will help students learn more effectively.
Lifetime access
The training includes lifetime access to course content, so you can continue to learn and grow even after you complete the course. You are also entitled to future updates for free with unlimited access.
24×7 Support
The training also includes 24×7 support and one-on-one learning assistance to ensure your success. You also have access to helpdesk support if you have any issues or questions related to the training course.
Pricing
According to their website, the Edureka PMP course program price is $749 if you are in the US.
However, the cost for the PMP virtual boot camp course varies depending on your geographic location.
Overall, the cost of Edureka's PMP certification training program is very affordable compared to other online PMP certification training providers.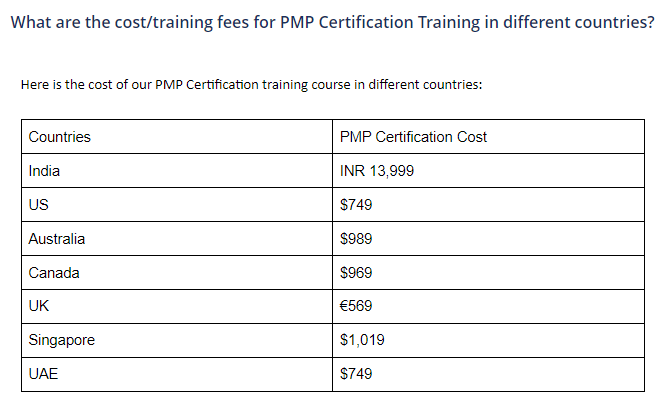 Refund Policy
According to Edureka's terms & conditions, the platform offers a 3-day refund policy for its PMP certification training program. If you are not unsatisfied with the program within the first three days of registration, you can request a full refund.
However, you should be aware of the catches that will void the refund:
If you download any material from the learning management system.
If you watch more than 2 class recordings
You have to note that Edureka can suspend your account if they notice any type of misuse over the refund policy. Overall, the 3-day money-back policy is mediocre compared to other virtual boot camp training providers.
100% Money Back Guarantee
Edureka does not offer a money-back guarantee if a student fails to pass the PMP exam.
Some training providers offer such a guarantee, but the training class is typically more expensive and has several conditions the student must meet.
Pros
Edureka has several unique benefits compared to other training providers.
Very affordable price
Edureka's PMP boot camp training is very affordable compared to other boot camp training providers. Most of the PMP virtual boot camp training costs more than $1000.
PMI's on-demand learning costs $699 for members and $799 for non-members. With Edureka, you get live instructor training, post-training support, and lifetime access for about the same price. Therefore, you get much more for the same price.
Hands-on exercise
Edureka's PMP boot camp training is highly interactive. In addition to quizzes and assignments, there are multiple hands-on exercises during the training sessions.
During the training, the student will actively participate in the training with hands-on experience such as negotiating project agreements, empowering team members, planning the work, managing the project plan, and more.
The hands-on learning will reinforce and solidify learning and help you learn more effectively.
Unlimited lifetime access
Edureka is a rare training provider that offers lifetime access to their PMP training, unlike most of the training providers that limit the access between 3 months and up to 1 year.
In addition, you have access to the new training material whenever there is a new PMBOK release. It will help you keep up with the latest project management standards and practices.
24/7 Support
Edureka offers 24/7 support to its PMP students. This includes assistance with course-related queries and technical support.
Cons
At such an affordable price, Edureka has several drawbacks that you may want to consider before making the purchase.
Exam Simulator
Unlike most training providers, Edureka does not provide an exam simulator with its boot camp training package. This is the biggest drawback.
As a supplement, you may want to supplement Edureka's training with one of the top exam simulators.
Class Availability
Edureka has limited class availability and only lists classes about 1 month ahead. Typically, there are two classes hosted per month. The class can be on weekdays, weeknights, and weekends classes.
Edureka probably does not display distant future classes to avoid canceling classes.
Unless you plan to take PMP training months ahead, this limitation may not be a drawback.
No money-back guarantee
If the students fail the PMP exam, Edureka does not provide any guarantees or offer a money back. However, while other boot camp training providers may provide a 100% money-back guarantee, there are strings attached in most cases.
Lacks transparency
Compared to other training providers, Edureka lacks transparency. For example, the website does not provide any information about the training instructors. You will need to provide your email address to make an online inquiry or obtain the course syllabus.
Edureka Review – Our Verdict
In conclusion, Edureka is a reputable and certified training provider by PMI. There are several unique pros and cons to consider when it comes to choosing Edureka.
The most appealing factors that stand out are its price and lifetime access. Edureka is the most affordable PMP boot camp training provider and offers lifetime access to the training material.
The key drawback is that Edureka does not have a PMP exam, and you will need to supplement from other providers.
Overall, Edureka PMP Training is suitable for:
Students who are on a tight budget and prefer live instructor training.
Students who prefer to have more time to prepare and take the PMP exam.
Students who want lifetime access to up-to-date training material.
Students who do mind supplementing with an exam simulator elsewhere.
If you are willing to spend a bit more money and consider higher-quality training providers, check out this comparison chart where I compare the top training providers.
Edureka Review

Edureka Feature Review
Instructor Profile & Transparency
Related Articles: