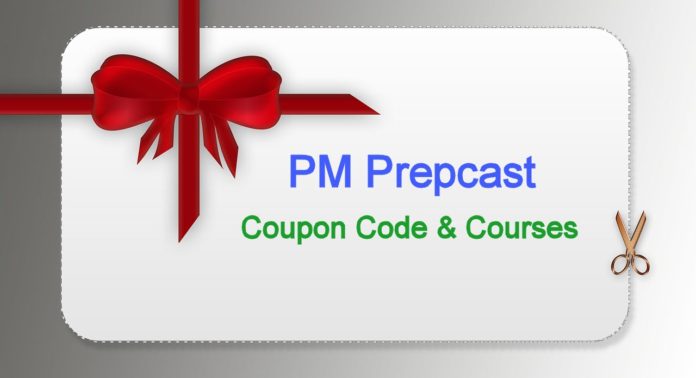 Last Updated on February 28, 2023 by andrewshih
PM Prepcast Coupon Code
PM Prepcast typically offers coupon codes and rotates various course offerings monthly at a discount price. As one of the PM Prepcast affiliates, I am informed of the current and sometimes even upcoming PM Prepcast coupon code, which I will share below.
Please keep in mind that the coupon code will only work during the date of the sale as indicated. The information may help savvy PMP, Agile, and CAPM aspirants who are planning their purchase with PM Prepcast at a discount price.
In addition to the PM Prepcast coupon code, I also included instructions on how to apply the discount code and PM Prepcast's refund policy.
Disclaimer: Some of the links below are affiliate links, which means that if you choose to make a purchase, I may earn a commission. This commission comes at no additional cost to you. Please review the full affiliate disclaimer.
PM Prepcast Coupon code for March 202

3
PM Prepcast Exam Simulator
PM PrepCast Exam Simulator ($149.00) $119.00
For most people, including myself, plenty of practice is the best way to retain the learning and understand "PMI-ism." PM-Prepcast exam simulator is the leader and is highly rated on the Reddit PMP forum.
The exam simulator has been updated for PMBOK 7 for a total of over 2280 realistic exam questions and detailed answer keys, with 4 full exams for a realistic exam experience and an additional 1350 quiz pool questions.
There are many useful features and also a dashboard to help you track progress and spot weakness. Read the full PM-Prepcast review.
$30.00 off the regular price of $149.00
Reduced price: $119.00
Sales Date: 01 March 2023 to 30 April 2023
Coupon code: no discount code is needed
PM Prepcast

Courses

PM PrepCast Basic ($279)
The PrepCast Basic is a self-paced set of recorded video lessons that satisfies 35 contact hour requirements and can be accessed online or downloaded to a mobile device such as laptops, tablets, or smartphones using a podcast app.
PM PrepCast Elite ($349) $269
In addition to the on-demand training lessons, this package gives you 90-day access to the highly-rated PM Exam Simulator so you can practice what you have learned. You will get a $79 bundle savings with the Elite package.
$80.00 off the regular price of $349.00
Discounted price: $269.00
Sales Date: 01 March 2023 to 31 March 2023
Coupon code: Mar23
PM PrepCast Elite PLUS ($389) $309
The PM PrepCast Elite Plus includes everything in the Elite package, plus the PM StudyCoach Guidebooks, and the PM Formula Guides. You will get a $117 bundle savings with the Elite PLUS package.
$80.00 off the regular price of $389.00
Discounted price: $309.00
Sales Date: 01 March 2023 to 31 March 2023
Coupon code: Mar23
---
Agile Prepcast

Courses
Agile Prepcast Basic
The Agile PrepCast Basic course is designed to help you pass your PMI-ACP certification exam.
It covers topics like Scrum, Kanban, Lean Startups, DevOps, and much more. Each lesson covers a specific subject and includes quizzes and practice questions to help you learn. You can watch all the lessons online or download them to your mobile device.
Using Prepcast Discount Code
Step 1
Access PM Prepcast promotion using the links above, which will bring you to the selected course package.
Step 2
Click on "Order Now" or the package you want to purchase. It will take you to the order checkout form.
Step 3 IMPORTANT
Enter the PM Prepcast Discount Code in the Coupon Code field.
You must click on "Validate" behind the PM Prepcast Coupon Code box to apply the discount.  The word "valid" should appear, and the price should change.

Step 4
Fill in the rest of the order form and click "Order Now"
How to apply PM Prepcast Discount Code Video
Here is my video that demonstrates how to apply the PM Prepcast coupon code. Since you are already on this page, I skip the video 2 minutes ahead just to help you navigate the long PM Prepcast landing page and show you how to apply and validate the PM Prepcast discount code.
---
Frequently Asked Questions
When does the 90-day access countdown start for the PM Prepcast PMP Exam Simulator?
If you purchase the PM Prepcast PMP Exam simulator, the 90-day access countdown starts when you start taking the first exam or quiz; the countdown doesn't begin when you make the purchase.
In fact, if you know you will be using PM Prepcast exam simulator, you should grab the deal, especially when there is a discount. PM Prepcast rotates the discount program for various products, so redeem the PM Prepcast discount code when there is a discount and use it later.
If I need more than 90-day access to the PMP exam simulator, can I extend it?
Yes, PM Prepcast can offer an extension to access the exam simulator, and you do not have to pay the full price again. The price for the 30-day extension is $25, and the 60-day extension is $39.
Can I still apply PM Prepcast Discount Code after the purchase?
Typically PM Prepcast discount code is only valid within a certain date range, typically for a calendar month. The discount code will not work If you try to apply the coupon outside of the month.
It is possible that you may find out about the special offer or realize you didn't apply the discount code after the purchase, you can contact the PM Prepcast support team within the 3 days, and they will be able to assist you with the discount.
What if I changed my mind about the PM Prepcast purchase?
To request a refund for your exam simulator, you will need to make the refund request with PM Prepcast (OSP International LLC) within 30 days of your purchase. To cancel your purchase, please send an email to support@pm-exam-simulator.com
The following condition also applies:
To be eligible for the refund, you must not start/finish more than 1 exam and/or start/finish more than quizzes.
You can read the refund policy for the exam simulators. full terms and conditions here.
Why does PM Prepcast offer discounts for training and products?
It is becoming a trend that more and more companies are no longer sponsoring training and career development for employees. Many PMP aspirants have to fund their own training and exam cost. To support the students, PM Prepcast provides a monthly discount code for selected training courses and products.
PM Prepcast Review
Please also refer to my comprehensive PM Prepcast review, complete with Pros, Cons, and recommendations.