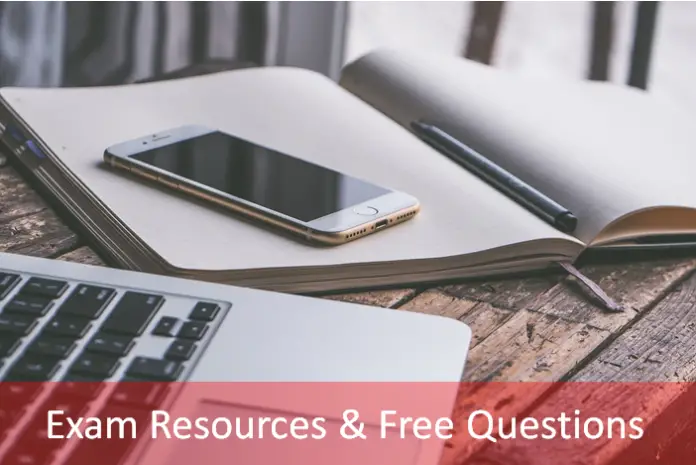 Last Updated on September 30, 2023 by andrewshih
PMP EXAM RESOURCES
The all-in-one collection of PMP resources, including PMP exam courses, PMP study guides, best PMP exam simulators, and free PMP exam questions, are intended to help PMP aspirants prepare for the PMP exam.
Disclaimer: Some of the links below are affiliate links, which means that if you choose to make a purchase, I may earn a commission. This commission comes at no additional cost to you. Please review the full affiliate disclaimer.
---
Top PMP Boot Camp Courses
If you have the budget or your employer is willing to sponsor the training, PMP boot camp training is a great choice. You will receive the most support, and many providers offer an exam pass guarantee, or you get the money back.
Here is a quick summary of the top 5 PMP Bootcamp training courses. You can learn the full details in PMP boot camp comparison.
Project Management Academy

Master of Project Academy

Instructor Qualification & Transparency

EMV, Network diagram, Strategy audio, Andy's Book

Industry-Relevant Projects

Available for extra $197 with 1600+ questions.

180 days. Can extend with approval

Custom study plan if failed test.

Yes, free retake at same or lower value.

Yes, free retake at same or lower value.

Yes, 6-month unlimited access.

Yes, Lifetime access + updates

Exam Pass Money-back guarantee

Yes, 1 year from class start date.

Yes, 120 days after class end.

Yes, 120 days after class end.

Yes, 6 months after class end.

Exclusive Offer!

Save extra $450

Exclusive Offer!

Save extra $200

Exclusive Offer!

Save extra 15%
Udemy PMP course with 35 Contact Hours Certificate
Udemy offers amazing PMP training courses at the most affordable price. Here are two top-rated PMP exam prep courses that will qualify for 35 contact hour requirements.
PMP Certification Exam Prep

Andrew Ramdayal's PMP course has emerged as the favorite Udemy course amongst PMP aspirants. The students find the "project manager mindset" section very helpful for learning to pick the right choice on the exam, and his training style is very engaging and easy to understand. The course also included 400 exam-like questions.

Joseph Phillips's PMP exam prep is another highly recommended course amongst PMP aspirants. Very knowledgeable instructor, the content is well organized, and great overview course for the PMP exam.
*The price for Udemy courses varies frequently. Use the link provided to check the latest price.
Best PMP Exam Simulator
Most PMP aspirants agree that using the best PMP exam simulator with questions that are similar to the real PMP exam is the most important factor for passing the PMI exam.
Here is a comparison of the top 5 PMP exam simulators with more than 1000 practice questions. You can get full detail about the comparison here.
| | | | | | |
| --- | --- | --- | --- | --- | --- |
| | | | | | |
| | | | | | |
| | | | | | |
| | | | | | |
| | | | | | |
| | | | | | |
| | | | | | |
| | | | | | |
| | | | | | |
| | | | | | |
| | | | $67/Month or $197/Lifetime | | |
| | | | | | |
| | | | | | |
| | | | | | |
PMP Study Guide
PMI recently published a list of reference books. You can find this list along with the pros/cons of popular PMP exam prep books in this PMP study guide review.
While the exam is based on Exam Content Outline, the primary reference books are the PMBOK guide and the Agile Practice Guide. As a PMI member, you are entitled to a free digital copy of these books. If you prefer a paper copy, check it out on Amazon if it's cheaper.
| | |
| --- | --- |
| | PMBOK was published in August 2021, and you should expect questions to start referencing from PMBOK 7 in 2022. It covers principles primarily and does not negate PMBOK 6. |
| | PMBOK 6 covers the process, tools, and methodologies. It will continue to be the primary reference book for the PMP exam. |
| | 50% or more of the questions will be about Agile on the PMP Exam. Make sure you are familiar with Agile concepts covered by the Agile Practice Guide. |
Here are 3 highly-rated PMP exam study guides.
The 50 PMP Exam Prep Questions Everyone Gets Wrong: Master The Hard Questions - Ace Your PMP Exam by Cornelius Fichtner

Unlike a typical study guide, this book takes a deep dive into the 50 difficult PMP exam questions and teaches you the mindset for tackling those questions. This book is perfect for PMP aspirants who want to challenge themselves and be ready for tough questions on the exam.




PMP Exam Prep Simplified by Andrew Ramdayal

This study guide accompanies an eLearning course that qualifies 35 contact hour requirement. This book is highly recommended by PMP aspirants, especially for its PMP mindset material. The book is ideal If you are looking for a study guide that is easy to read and willing to accompany this book with eLearning, where the author provides updates with new exam material.

The PMP Exam: How to Pass on Your First Try by Andy Crowe

The book has been updated for the new 2021 PMP exam with Agile. If you are looking for just one PMP study guide for PMP Exam prep, Andy's book is concise and to the point. No more and no less.
PMI Exam Resource
2021 PMP Examination Content Outline
Pearson Vue Resource
Get familiar with the Pearson Vue whiteboard before you take the PMP OnVue exam. Practice using tools such as text, shapes, colors, zoom, and multiple formatting features.
Free PMP Study Resource
PMP Formulas
PMP Exam formula Cheatsheet
Free Process Flow & Games
Processes Flow Maps by Ricardo Vargas
Are you struggling with the 10 process areas in PMBOK Edition 6 and how they interact together? Ricardo Vargas offers Processes Flow maps in both detailed and simplified versions that you can download for free in multiple languages. He also accompanied a very good video that explains the process flows.
PMAspirant Knowledge Area & Process Group Mapping Game (Interactive)
Drag and drop the process to the correct knowledge areas and process group. Solidify your memorization of PMBOK process mapping.
Rita Process Game (Interactive)
Drag and drop the process into one of the five domain groups.
Rita Process Games on Quizlet
Learn PMP process the fun way with Flash Cards, Match cards, and Gravity game.
Free ITTO
PMAspirant PMP ITTO Review (Interactive) *NEW
An Interactive online tool to help you review ITTO. You can find ITTO quickly for all the processes. You can also reverse engineer and get the list of processing containing a particular ITTO. A great tool to help you grasp the inter-relationship between the processes and ITTO.
PMAspirant PMP ITTO Game (Interactive) *NEW
The best free online Input Tools & Techniques and Output (ITTO) game to help you prepare for the PMP and CAPM exam. You can test selective knowledge areas with 3 different game modes; A quick way to refresh and test your ITTO readiness.
ITTO Mind Map printout by ExamsPM
ITTO for all 10 process areas in PDF format.
EEF vs OPA Game by DeepFriedBrainProject
Drag and drop items into EEF or OPA bucket and check your result.
Other Free PMP Games
PMAspirant Org Structure Game (Interactive) *NEW
Are you familiar with various organizational structures (simple, functional, matrix, hybrid, PMO, etc.) and their characteristics? Take the quiz and find out!
Free Mobile App
| | | |
| --- | --- | --- |
| | | |
| Completely free mobile app based on PMBOK 6. Covers all knowledge areas, process groups, ITTO, Flash Cards. Contains ads. | | |
| The free version offers limited practice questions and Question of the Day access. The full version has - Hundreds of practice questions and detailed rationales, an exam builder to create custom exams, and full access to Question of the Day. | | |
Free and Helpful PMP YouTube Videos
Here is a collection of top PMP YouTube videos from Ricardo Vargas, Andrew Ramdayal, AND David McLachlan recommended by PMP aspirants.
PMBOK Guide 6th Ed Processes Explained Ricardo Vargas
Ricardo Vargas Explains the PMBOK® Guide 7th Edition Explained by Ricardo Vargas
PMP Terms to Know for the Current PMP Exam by Andrew Ramdayal
200 AGILE PMP Questions and Answers by David McLachlan
150 PMBOK 7 Scenario-Based PMP Exam Questions and Answers by David McLachlan
The Complete Project Management Body of Knowledge in One Video (PMBOK 7th Edition) David McLachlan
100 WATERFALL PMP Questions and Answers by David McLachlan
Free PMP Exam Simulator & Free PMP Exam Questions
Many PMP aspirants (myself included) can attest that buying a premium exam simulator to get the real exam question experience is vital in passing the exam and worth the investment. Don't just rely on free questions to practice and prepare for the exam. The free questions are here to supplement your study only.
With that said, a handful of websites provide free PMP exam questions, and some offer free PMP exam simulators.
Here are a few things to keep in mind:
This list of free PMP exam simulators was revamped and reviewed completely at the end of December 2022, so all the links and descriptions should be up to date for your 2023 PMP exam preparation. This should be the most concise, up-to-date, and clean list.
I didn't sign up and test for the ones requiring email registrations to access free PMP exam questions. (I don't need more promotional emails in my inbox).
I try to order the higher quality free PMP exam simulators at the top of the list.
The table is interactive, you can order by provider name, number of questions, format, and email registration flag based on your reference.
Excellent quality questions with the exam simulation interface. You will get the answer with detailed explanations.

PM-Prepcast (Free 7-day access)

Excellent quality questions with the same premium PMP exam simulator interface. You will get the answer with detailed explanations. Try out 7 days with 69 questions for free before deciding if you want to get full access to this highly praised exam simulator.

Simple online simulator with 100 questions all on one page. Reference to PMBOK and Agile guide is provided. The answer key is provided, but no explanation.

The most advanced free PMP exam simulator, even with the strike-out wrong choice feature like the actual exam. Exam & Training modes available. Detailed answer key and PMBOK/Agile reference provided. The detailed final report is provided. Try out 10 questions before getting the full version.

This free PMP exam simulator offers 25 questions. Tracking, mark for review, answer key with PMBOK reference, but no detailed explanation.




Project Management Academy

A collection of top-quality PMP exam practice questions. Requires email registration to get your result.

200 PMP practice questions with 240 min time limit. Retake and pause as needed.

In addition to multiple-choice questions, it includes mapping, fill-in-the-blank, and multiple-response questions. 2 full mock exams, 30 free videos, and more. Requires free registration for a 5-day access.

4 sets of 50 free PMP practice questions. Tracks your answer and progress. The answer key provides explanations but no PMBOK/Agile reference. Quite a few ads.

Download 180 practice questions with answers and explanations (including PMBOK reference) follow by each question. Note that email registration will also sign up for a free web class.