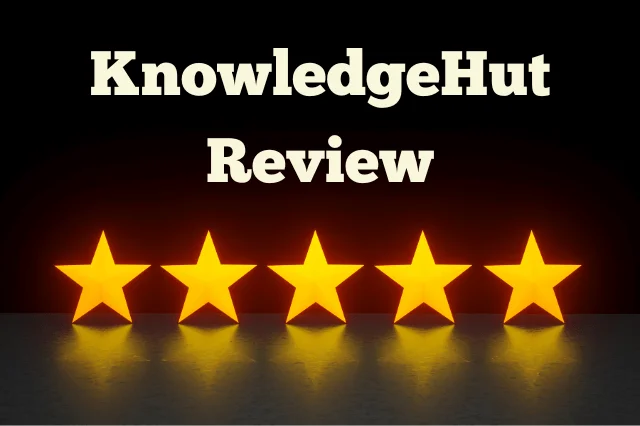 Last Updated on December 25, 2022 by andrewshih
Are you researching PMP certification training, but you are not sure if KnowledgeHut is right for you? In this KnowledgeHut PMP Review, we will take a deep dive into the Project Management Professional (PMP) boot camp training offered by KnowledgeHut.
Disclaimer: PMAspirant is affiliated with KnowledgeHut. If you purchase with the affiliate link, we may earn a small commission at no additional cost to you.
What is KnowledgeHut?
KnowledgeHut is a company that helps professionals develop new skills and bridge any gaps in their knowledge to be successful in the global corporate world. It offers a wide range of services, including training, learning, and development, in technology and management.
KnowledgeHut has trained over 250,000 students from over 70 countries and has a team of over 500 instructors with over 250 courses. The company's headquarters is in Bangalore, India.
KnowledgeHut provides a wide range of courses, from basic to advanced levels, that cater to the needs of every individual. Some of the most popular courses include Project Management Professional (PMP), Certified Scrum Master (CSM), and Certified Associate in Project Management (CAPM).
The company's founders are young entrepreneurs who saw a need in the IT Training industry for professionals and decided to fill that niche. They are aided by industry experts who conduct workshops and help people learn the skills they need to succeed in their careers.
Is KnowledgeHut Legit?
KnowledgeHut is an Authorized Training Partner (ATP) with the Project Management Institute (PMI). This means that their PMP certification program meets the highest standards set by the PMI. KnowledgeHut also holds several premier accreditations for other training courses.
KnowledgeHut is a legitimate, well-respected training provider, with 4.8 out of 5-star reviews on TrustPilot from over 2000 reviewers. You can be assured and confident of receiving high-quality course material and excellent customer service when you enroll in one of their programs.
PMP Boot Camp
The PMP boot camp training is delivered online as
4-weekday full-day course or
8-weekend half-day course.
The course covers 6 modules:
Introduction: The Project Management Mindset
Module 1: Creating a High-Performing Team
Module 2: Starting the Project
Module 3: Doing the Work
Module 4: Keeping the Team on Track
Module 5: Keeping the Business in Mind
Module 6: PMP Examination Preparation
The PMP training package includes:
Satisfy 35 Contact Hours requirement
Extra 24 PDUs that go toward your PMP certification renewal
Live instructor-led virtual training
30-Day, 60-Day study plan
Exam prep support
8 full simulation exams with over 2800 PMP practice questions.
PMP Application assistance
6-month post-training support
6-month grand pass access to take advantage of the Free Refresher Course
Pricing
The KnowledgeHut PMP program is priced at $689. This includes access to all the available online course material, as well as all of the downloadable resources. There are no hidden fees; you can even pay for the course in installments as low as $66/month if you prefer.
In fact, $689 is likely the most affordable boot camp training you will find online. The official PMI on-demand PMP exam prep course cost between $699 to $799. KnowledgeHut PMP boot camp training clearly offers a much better value with an instructor, course material, and support.
100% Money Back Guarantee
KnowledgeHut PMP boot camp training comes with 100% money-back guarantee. If you do not pass the PMP exam on your first attempt, KnowledgeHut will refund your course fee.
The Knowledgehut online support confirmed the money-back guarantee.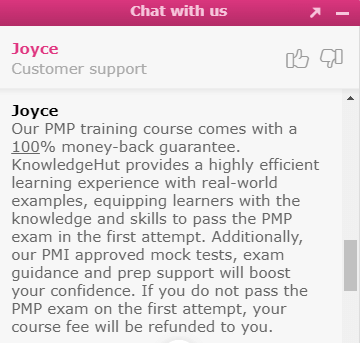 However, there are stringent conditions for getting the money back:
You must attend more than 90% of the live training course scheduled.
You must complete 100% of all assigned self-paced learning materials, including short quizzes.
You must score more than 85% on all weekly assignments.
You must score at least 75% on all mock exams.
Overall, I feel these conditions are harder to meet than passing the PMP exam. If you can accomplish all these conditions, it's hard to imagine you did not pass the PMP exam.
Refund Policy
Knowledgehut offers many courses with different refund policies, making it difficult to find out about the refund policy pertaining to Knowledgehut's PMP boot camp course.
On Knowledgehut's refund policy page, the company will only refund 50% of the refund request 48 hours before the PMP boot camp class starts. No refund within 48 hours. If you access the training material, you will not be able to get the money back.
Pros
If you're looking for a top-notch PMP exam prep course, KnowledgeHut is worth considering for the following reasons.
Most affordable PMP boot camp online class
KnowledgeHut offers the most affordable PMP boot camp class on the marketplace. At $689, it's a bargain. Most of the live instructor-led courses cost much more than $1,000. The cost of the course is on par with the PMI's PMP on-demand training, but this boot camp course has a lot more to offer.
KnowledgeHut is an Authorized Training Partner (ATP) by PMI, so the course must be held to the highest standards. The course also includes support, extra PDU, and an exam simulator with 2800 questions as very useful add-on services.
Exclusive GRAND PASS
Another advantage of the KnowledgeHut course is the "Grand Pass" access for 180 days. Once you have completed your initial boot camp training, you can hop on to any available PMP training course within six months.
Knowledgeable trainer
Most of the online KnowledgeHut reviews by former students praise the instructor for being knowledgeable and helpful. They will answer any questions you may have about the course and help you get the most out of your experience.
PMP exam simulator with large questions bank
Knowledgehut's boot camp course comes with 2800 practice questions that include 8 full mock exams. It's the largest PMP practice questions bank available compared to other PMP boot camp providers. there is no limit to retaking the mock exams during the 6-month period. There are more than enough practice questions to prepare for the PMP exam.
Pre-Exam and Post-Exam support
If you struggle with the PMP application, KnowledgeHut will help, or you can also refer to my how-to complete the PMP application step-by-step.
More importantly, KnowledgeHut offers post-training support for up to 6 months to help you with exam preparation, access to a refresher course, and an instructor.
30-day and 60-day Study Plan is provided
If you do not have time or are not sure how to plan your study for the PMP exam, it can be helpful to have a study plan. Even if you do not follow the study plan step by step, it can still serve as the baseline to ensure you are on track with your PMP exam preparation.
Cons
While KnowledgeHut's PMP boot camp course is likely the most affordable in the marketplace, there are a few gotchas that you should be aware of.
Class is not guaranteed to run
If there is not enough enrollment for the scheduled class, KnowledgeHut reserves the right to cancel the class. The course can be canceled hours before the training starts. It can be very inconvenient for students who block out the time for the class and have to reschedule again.
It's a common practice for most training providers to ensure profitability. If this is a deal breaker for you, Project Management Academy is one training provider that I know offers classes that are guaranteed to run.
Online-only course material
The material for the training is only accessible online and cannot be downloaded.
You will need WIFI or a data plan to access the training course. Most of the training providers will have downloadable materials for offline study.
Reschedule cost extra money
If you need to reschedule the class, there is a $50 fee if you are from India or $100 fee for the rest of the world.
Most training providers offer free rescheduling at least for the first or three times so that the students can signup and pay for the class and then find the best time to attend the class later.
To avoid paying an extra rescheduling fee, make sure you are available to take the class and block out your work and personal calendar.
Not so generous refund policy and money-back guarantee
While the refund policy and money-back guarantee look good initially on paper, they don't seem generous once looking into more detail. You won't be able to get a full refund once you pay. The criteria also make it hard to get your money back with the 100% money-back guarantee.
Mixed KnowledgeHut support review
Most of the negative online KnowledgeHut reviews from former KnowledgeHut students are related to support. If you need a timely response to a question, request a refund, or reschedule a class that has been canceled, you will need help from the support team, and you may experience mixed results.
Conclusion for KnowledgeHut PMP Training Review
KnowledgeHut offers competitive PMP boot camp training to help students prepare for the PMP exam.
The key strengths of the course are the very affordable price, exam simulator with the largest questions bank, knowledgeable instructor, and grand pass access to refresher courses within six months.
However, the downsides of the PMP training are that the class is subject to cancellation anytime and rescheduling fees. There is a poor refund policy, no offline access, and mixed support reviews. If any of these drawbacks is a blocker, please check out three other providers from this comparison chart.
Overall, the KnowledgeHut PMP training is ideal if you want live instructor virtual training authorized by PMI at the most affordable price, access to the largest PMP practice questions bank, and flexibility to refresher courses within 6 months at no additional cost.
KnowledgeHut PMP Review
Summary
KnowledgeHut is the most affordable PMP Boot Camp online training as PMI-certified ATP. You can attend any refresher courses within 6 months and access the exam simulator with 2800 practice questions.

The downside is the class is subject to last-hour cancellation, and course material is only accessible online, not so generous refund policy, and mixed support experience.

Besides these drawbacks, KnowledgeHut offers solid PMP boot camp training at an incredible price.
Related Articles