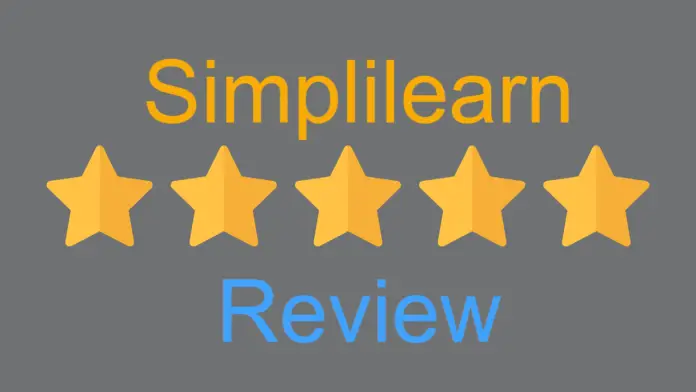 Last Updated on February 15, 2022 by andrewshih
Simplilearn Review for PMP Course
In this Simplilearn review specifically for the PMP course, we will explore the live virtual course packages, the pros/cons compared to other providers, and the recommendation.
About Simplilearn
Having trained over 1 million professionals globally and companies across 150+ countries, Simplilearn is one of the world's leading certification training providers with over 40 global accreditation, 2000+ qualified trainers, and 500+ courses.
Simplilearn is also the 8th most influential education brand in the world by LinkedIn and Google's first authorized training partner.
PMP Certification Course Offerings
Instructor-Led Course for $999
Key Features
35 contact hour/PDU earned
180 days of access to high-quality, self-paced learning content designed by industry experts
8 industry case studies, 20 industry-based scenarios
29 hours of high-quality e-learning content
E-Learning material for 180 days with downloadable e-books
Unlimited 90 days of access to 20+ instructor-led online training classes over WebEx
36 hours of instructor-led training
100% money back, if you fail to pass PMP exam in the first attempt.
Try It Out For Free
Try out one full PMP exam simulator with 200 quality questions.
Simplilearn offers quite a few free course videos that you can review to help you decide if the course is right for you.


PROS
Affordable live virtual PMP course
Simplilearn live virtual PMP course costs about $999 which is one of the most affordable in the marketplace.  The provider also offers a reasonable number of classes to choose from.
Very high quality and most demo videos available
Simplilearn makes the most course demo video available for free access here.  The videos are visually appealing, nicely animated, good sound quality, and done by a native English speaker.  For critical concepts, the video also includes case studies and scenarios to reinforce the learning.
For example, In the project cost management, the video includes scenarios and examples to reinforce the learning and go through the actual calculation of CPI, SPI, EAC.
Tremendous flexibility with the live virtual class
When you register for the live virtual PMP class, you are not locked down to the instructor or the date/time of the class you registered for.  You will have 90 days to access 20+ instructor-led classes.
You will be able to repeat the topics that you find challenging, find a favorite instructor to work with, and get answers from different instructors if you have doubts.  You will be able to attend the course adapting to your busy schedule, rather than the other way around.
Good forum and community support
The student will have access to Simplilearn's top-notch forum.  Simplilearn students receive strong support from Simplilearn's community of moderators, support staff, and other students.  Whether you have questions about the PMP application or questions about the exam, you can get the support you need.
Best money-back guarantee for a live training course
Simplilearn guarantees the success of PMP aspirants who attended their live virtual class.  If you fail your first PMP exam attempt, Simplilearn will you 100% of your money back.
This is the strongest guarantee in the marketplace.  Most other course providers will only allow you to take the course again for free, at discount, or extend the deadline.
Generous refund policy
Simplilearn offers a 7-day money-back guarantee which is considered generous compared to other live course providers. You can make a refund request within 7 days of purchase, and Simplilearn will refund 100% of your payment.
For Instructor-Led Training, you must raise the refund request within 7 days of commencement of the first batch you are eligible to attend and attended no more than 1 day of live training.
Free access to learning materials
Simplilearn provides free online mock exam questions to provide you a full mock exam experience.  Simplilearn is also quite generous with providing most demo videos.  If you are not sure about taking the course, you can try out the free simulation exam and watch the free training videos.
CONS
Instructor bio not provided
Simplilearn does not provide the instructor's bio on the website.  While you do have the flexibility of 90-day access to 20+ live classes, It is possible you may need to try out different instructors to find one that works best for you and fits your schedule.
Free access requires your contact information
While Simplilearn provides free online mock exam questions and the most demo videos.  You will need to provide your valid email address and a phone number to gain access and request materials.  The Simplilearn sales team will reach out to you using the contact information.
Aggressive Sales Tactics
When I submit my email to try out the free exam simulator, I was contacted by Simplilearn sales.  I expressed I am already PMP certified and just testing the exam simulator, but the sales team continued to contact me for months via phone and email about the PMP course.
Poor reviews on Better Business Bureau
Most people do not go as far as filing a complaint about a company with BBB unless there is no better recourse to resolve the issue.  There are quite a few complaints on BBB about getting a refund back from Simplilearn.
While Simplilearn offers a money-back guarantee, you may have to jump through the hoops to get a refund.
Conclusion – There are better PMP training courses out there.
One key differentiator for Simplilearn is the flexibility of 90-day access to attend instructor-led courses.  It is beneficial that you don't need to worry about missing a class and be able to accommodate your busy work schedule.
The forum is useful to get additional support from the community.  Simplilearn also offers discounts from time to time so look out for the savings.
However, the aggressive sales tactic, poor customer support, and customer complaints are concerning.  If you worry about dealing with these hassles, you should look into another Authorized Training Partner.
Related: