Last Updated on December 20, 2022 by andrewshih
If you are new to PMP certification, "contact hour" can be a very confusing term. I am sure you have many questions, and you are not alone.
For example: what is the difference between contact hours and PDU? What counts as a contact hour, and what does not? How can I get 35 contact hours for PMP free?
This article will help you with everything you want to know about PMP contact hours.
First, we are going to clarify common confusion about contact hours.
Then we will explore several options for getting free PMP contact hours.
Finally, we will provide cheap training options you may want to consider if you need a refresher course to help you earn the 35 contact hours and prepare you for the PMP Exam altogether.
Disclaimer: PM-Prepcast, and Udemy are affiliate links, which means that if you choose to make a purchase, I may earn a commission. This commission comes at no additional cost to you. Please review the full affiliate disclaimer.
What is 35 Contract Hour for PMP Certification?
What does "contact hour" even mean, and what are the requirements? No, you do not have to contact anyone for 35 hours, especially with the availability of online training.
According to PMI's PMP Handbook:
One contact hour is equivalent to one actual hour of training or instruction received.
These hours refer to the formal education or training that aspiring PMPs must complete prior to taking the PMP certification exam. The student must accumulate 35 training hours, although the hours can be accrued from multiple sources at different times.
Does the Contact Hour Expire?
The good news is that these hours don't expire, so you can use the education you completed years ago as long as it's relevant to the PMP, and you can prove it.
It is important to make sure you have the document or record that you completed the training stated in case your PMP application is randomly selected for audit.
What is the difference between Contract Hours and PDU?
In case PDU is new to you, it means Professional Development Units. People may use Contact Hours and PDU interchangeably, but that is incorrect. Contact hours and PDU are similar, but they are quite different as well.
Both Contact Hours and PDU refers to project management training required by PMI, but here are the key differences for PMP certification:
| | | |
| --- | --- | --- |
| | Contact Hour | PDU |
| When | The training you need to complete BEFORE your PMP certification. | Continued education you need to maintain AFTER your PMP certification. |
| How Many (hours) | 35 | 60 |
| Acquisition | Must be formal project management training. | Many ways to acquire PDU, such as volunteering for PMI or local chapters or publishing project management articles. |
| Expiration | Does not expire. | PDU expires and must renew every 3 years to maintain your PMP certification. |
So, to summarize, "contract hours" are a requirement BEFORE you are eligible to take the PMP exam, while "PDUs" are a certification renewal requirement AFTER you earn the PMP certification.
What qualifies for 35 contact hours?
I reached out to PMI and asked for clarification on what qualifies for PMP 35 contact hours, and here is PMI's response.
Any formal [project management/project scheduling/risk management/business analysis/agile] course can be used for contact hours of education on your credential application.
Courses through an employer, training company, college/university, PMI Registered Education Provider, PMI Chapter, or distance learning company are all acceptable. In order to be considered formal, the course must provide an end-of-course assessment and certificate of completion (or similar documentation verifying that you have successfully completed the course).
PMI also provides a number of online courses. A contact hour is one hour of time spent in the classroom environment, either in person or online. If you earn credit hours for a college/university course, the credit hours are generally equal to the number of classroom hours per week. There is no time limitation associated with obtaining contact hours of education.
Applicants can record any education/training in project management, regardless of when it was accrued, as long as the hours were completed prior to your application submission.
Please be sure that you still have documentation verifying the completion of the contact hours in case your application is selected for audit. Though we cannot review course or experience information before it is submitted to us on a completed application, please note that there is no cost to apply for any of our credentials.
In summary, to qualify for the 35 contact hours, PMI has clarified that any formal project management training is acceptable such as project scope, project cost, project schedule, project risk, project resource, project stakeholder, project integration, or agile course.
To qualify, the course must provide an end-of-course assessment, certificate of completion, or similar documentation to be considered formal.
What Documents Do You Need To Validate the Contact Hours?
So what documentation is considered formal and acceptable for the contact hours?
The documents may include:
Certificate of Completion
Test scores
Course Syllabus
Course descriptions
Transcripts
The more comprehensive the record is, the better. You may need to provide multiple documents to prove that you completed the course and what the course covers.
The documents should show that:
You attended the course with your name
When you attended the course
How many projects management training hours
Name of the project management course
Name of the training provider
Your final assessment score, if applicable.
Ultimately, you need to demonstrate that you completed relevant and formal project management training from a reputable source.
Do I Need to Provide Contact Hour Documents With PMP Application?
No. You only need to list the 35 contact hours on the PMP application; you do not need to send the documents. Nevertheless, you must make sure you have the record to support your claim in case of an audit.
Gathering all the documents can be time-consuming and tedious; however, don't skip this step. It is important to keep all documentation organized and readily available to prove your eligibility for PMI.
How Do You Count the Contact Hours?
Essentially one hour of classroom (or virtual) training is equivalent to one contact hour.
Here are a few examples of how you can add the contact hours. You can also aggregate the hours from different training providers and courses.
Example 1:
If you took the project management course in college, and the class met for 1 hour every weekday for 7 weeks. You can record 35 (5 x 7) contact hours and satisfy the requirement.
Example 2:
If you majored in MBA and only some of the classes were relevant to project management, you can only count the hours that you spent learning project management-related knowledge. Let's say the curriculum covered 3 hours per week in project management; you can only count the 3 hours multiple by the number of weeks of the class.
Example 3:
If you attended a 3 full-day 8-hour project management training provided by your employer with a one-hour lunch break, you would earn 7 hours (8 – 1) x 3 = 21 contact hours.
PMI also provided an example of how to count the PMP contact hours in the Exam Content Outline: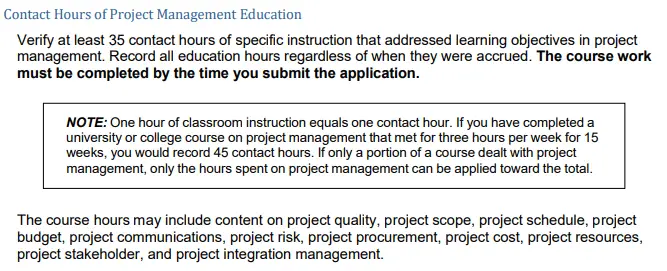 What Does Not Qualify as a Contact Hour for PMP?
Hours you plan to complete in the near future.
It's important to note that you must complete 35 contact hours of training before applying for the PMP. You can't simply state that you plan to complete the training in the future, as PMI will reject your application.
Therefore, you must plan accordingly and only submit the PMP application after you complete the course and satisfy the requirements.
Only training specifically related to project management will qualify, even if other skills and knowledge gained from the training are essential. For instance, leadership courses, while valuable, will not count towards the required 35 contact hours.
Exam simulators and self-study hours
While you will most likely spend considerable time studying by yourself and practicing using a PMP exam simulator, those hours do not qualify as contact hours. The time spent in these activities is not formal learning.
PMI and Local Chapter events may not qualify
What qualifies for PDU may not be eligible for contact hours. For example, volunteering or attending officer meetings may count toward PDU (up to 25 out of 60 PDU) but not contact hours. Social events certainly cannot count as contact hours (although, ironically, you are in contact during the hours).
Here is another example. You spent 3 hours in the local chapter meeting, where the keynote speaker talked about project management for 1 hour. In this case, you could only count 1 hour toward the contact hour.

How to get 35 contact hours for PMP Free?
We briefly mentioned earlier a few ways you could rack up your PMP 35 contact hours for free, but let's put it together and summarize below.
Remember that you do not need to complete 35 contact hours from one source – You are fine as long as you can add up to 35 contact hours for all the various training you took.

#1 College/University
If you took project management courses or majored in project management, you can aggregate the time you spent in those courses and count toward the 35 contact hours.
#2 Employer
Your employer may offer formal project management training for your role. Many companies have a virtual training library where anyone can enroll in virtual classes, including on-demand videos, quizzes, and provide the record once you complete the training.
#3 PMI Chapter
You can participate in PMI and local chapter educational events, but you won't be able to get the credit for the full session. However, many events will typically have a keynote speaker, which can count as 1 contact hour.

#4 PMI Free eLearning Course
If you already have project management training while in school or during employment, you may need a few more training hours to bridge the gap and satisfy the 35 contact hour requirement. There are several free eLearning courses available on PMI Website.
Here are a few examples:
#5 Webinar on ProjectManagement.com
What happens if you do not have the fortune to obtain prior project management training from school or employer? You are in luck. The easiest way to earn the contact hour would be by watching the live or on-demand webinar on ProjectManagement.com.
You can sign up for free, and there are over 230 free English webinars, each eligible for 1 hour of PMP contact hours.
To confirm that those webinars are not only valid for PDU but also eligible for contact hours as well, I reached out to PMI online agent to ensure those webinars are acceptable: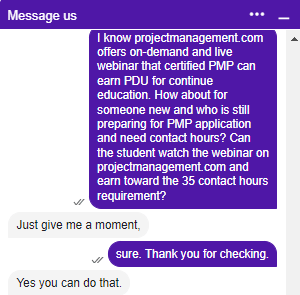 A Word of Caution About the Free PMP Contact Hours
If you took project management courses from a college or your employer many years ago, what you learned may not be up to date.
All the free training and webinars you watch will help you add up to 35 hours and meet the requirements, but they most likely won't fully cover all the topics and prepare you for the PMP Exam.
Therefore, most PMP aspirants take a refresher course to help them complete 35 contact hours and prepare for the PMP exam altogether.
Best Cheap PMP Online Training With 35 Contact Hours
Udemy PMP 35 contract hours
Udemy offers one of the most affordable PMP exam prep courses with 35 contact hours. Here are two courses that have been regularly recommended by PMP aspirants.
PMP Certification Exam Prep

Andrew Ramdayal's PMP course has emerged as the favorite Udemy course amongst PMP aspirants. The students find the "project manager mindset" section very helpful for learning to pick the right choice on the exam, and his training style is very engaging and easy to understand. The course also included 400 exam-like questions.

Joseph Phillips's PMP exam prep is another highly recommended course amongst PMP aspirants. Very knowledgeable instructor, the content is well organized, and great overview course for the PMP exam.
* Udemy price varies and offers frequent discounts. The price may not reflect the latest price. Use the link the check the latest price.
PMP online training with exam simulator bundle
If you want an affordable on-demand training course with an exam simulator bundle, PM-Prepcast is the top pick in this market.
35 hours of video-based training lessons

Certificate of Completion

25 Agile & Hybrid lessons

Exam simulator with 2,280+ questions (4 full exam + 1350 quiz questions)

PMP Exam Formula Study Guide
The PM-Prepcast Elite bundles the PMP exam prep course with the best PMP Exam simulator in the marketplace with 2280 practice questions that include 4 full mock exams. You save $79 by purchasing this popular bundle. Learn more about PM-Prepcast.

Earn 35 Contact Hours for PMP with Live Instructor
Attending the live training class to earn 35 contact hours and prepare for the PMP exam will not be cheap. I created a side-by-side comparison chart for the top live virtual class providers. If you are looking to earn 35 contact hours as cheaply as possible, this option most likely is not for you.
What If I Still l Have Questions About Contact Hours?
Your situation may be unique and it is not possible to cover all scenarios.
If you still have questions about the contact hours, you should check with PMI directly. PMI has the ultimate authority and the final say on whether your contact hours are acceptable.
Conclusion
I hope the article provides insight into how you can earn the 35 contact hours for PMP certification.
Now, over to you. How do you plan to earn the 35 contact hours?