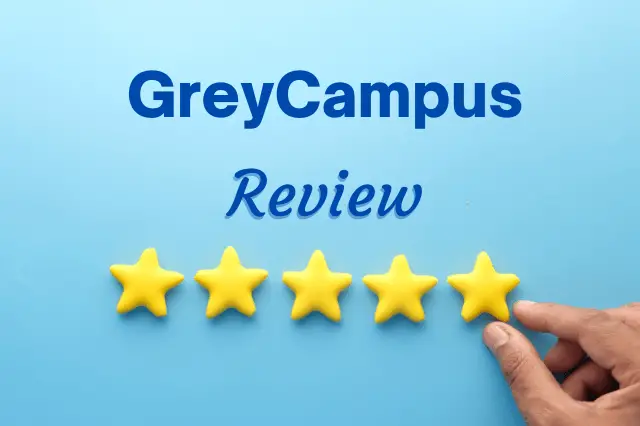 Last Updated on December 25, 2022 by andrewshih
GreyCampus Review for PMP Course
Are you exploring for a PMP Training course but still not sure if GreyCampus is a good choice?
In this GreyCampus review for the PMP course, we will summarize various packages offered by GreyCampus, the pros/cons compared to other providers and the recommendation.
About GreyCampus
GreyCampus is a premier Authorized Training Partner (ATP) with PMI, and is also associated with industry leaders, including Microsoft, IBM, Axelos, PeopleCert, and IASSC.
With over 100,000 professionally trained and over 500 trainers around the globe, GreyCampus is a leading provider of training for working professionals in the areas of Project Management, Big Data, Data Science, Service Management, and Quality Management.
GreyCampus Course Offerings
Live Online Training ($1300)
35 Contact Hour Certificate
4 Days Live training The Live virtual training consist of 4-day training with 8 hours per day. The intense course is divided into modules to facilitate learning and memorization.  In addition to teaching the course content, the trainer will highlight the important topics for the exam, as well as tips and tricks for solving PMP exam questions.
1-Day Exam Solving Session The instructor will conduct a mock exam session before the final PMP exams to help PMP aspirants with exam-taking strategies and tips for passing the PMP Exam.
PMP exam simulator with 3 mock exams.
Extensive study aids, including a study guide, slide deck, cheat sheets, formulas, ITTO reference, and flashcards.
1-Year Instructor Mentorship & Support.  You can get help from interactive exam-solving sessions, employing tricks and strategies, and questions about the PMP exam.
1 Year eLearning Platform Access. 1-year access to the learning platform with a study plan, additional audio/video lectures, practice questions, 3 simulated tests, and more.
30-Day Post-Training Instructor Helpline Students have the opportunity to work with an instructor one-on-one.  The instructors are available to assist with the PMP exam and answer any inquiries post the training for 30 days.
Corporate Training
Greycampus also take custom training request and bulk training request with a group of more than 5 students.

USA, Canada, UK, Spain, Switzerland, Ireland, Australia, Singapore, Hong Kong, Indonesia, Malaysia, Philippines, New Zealand, Vietnam, China, United Arab Emirates, Saudi Arabia, Oman, Qatar, Kuwait, South Africa, Egypt, India, Nigeria, Netherlands, Mexico.

GreyCampus Review: PRO
Affordable live virtual course
The GreyCampus live virtual course is priced very competitively amongst the Authorized Training Partners and is one of the most affordable in the marketplace.
GreyCampus also offers promotional discounts or discount codes from time to time so you may be able to get extra savings.
Many live virtual courses to choose from
GreyCamp is able to offer many time slots for the classes to accommodate a project manager's busy schedule. There are weekday, weeknight, and weekend classes available. Most likely you can easily find a class that can fit into your schedule.
One year access to portal and instructor
GreyCampus offers one year of access to the e-learning material, which is above average than other ATP and more than sufficient for preparing for the PMP exam.
Mock exam session with the instructor
GrayCampus includes a one-day mock exam-solving session to help PMP aspirants with exam strategy, tips, and tricks for passing the exam.
Unlimited 6-month access to live training course
While GreyCamp doesn't specifically offer an exam passing guarantee, you do have unlimited access to the live training course and are able to retake the course multiple times if necessary. There is no hassle to submit failed exam results or re-enrollment.
Together with 1-year online access and instructor support, you should have more than enough time and support to pass the PMP exam.
User-friendly e-learning dashboard.
I really like the e-learning dashboard, which is very user-friendly and has all the content that is easily accessible from the main dashboard.  The navigation menu is well-organized and intuitive.
From the main dashboard, you can immediately see your performance and your progress. You can also access all the content from the main dashboard with one click, including video training, practice questions, 3 mock exams, flashcards, downloadable study aids, and reports.
Many study aids
GreyCampus offers one of the most downloadable study aids amongst ATP providers, including complete slide decks, ITTO cheatsheet that highlights key outputs, PMP Exam formulas, and Critical Path Method step-by-step instruction. In addition, there are online flashcards that you can test your understanding of critical terminologies and concepts.

GreyCampus Review: CONS
Weaker PMP exam simulator
While the GrayCampus exam simulator is modern and easy to navigate, it is not able to break down your results into 5 domain groups and 10 process areas to help you identify your weakness. The dashboard will only tell you the questions you answered correctly and incorrectly, and it can't give you the breakdown or the percentage correct in each of the categories.
Also, not all the exam answers refer back to the reference within the PMBOK. While the answer keys provide a sufficient explanation, it would be useful to point out the reference within the PMBOK guide in case the PMP aspirant has doubts and want to refer back to the PMBOK guide.
The exam simulator only has 3 full simulated exams. The student may have to buy a separate exam simulator from PM Prepcast to supplement the exam preparation.
Lack of transparency for the instructors
GreyCampus does not provide transparency to its instructors on the website. A student may want to check the instructor's credentials and look at the profile picture before registering for the course.
Recommendation
Live virtual PMP course with the best support
GreyCampus PMP online course is affordable and has flexible class schedules. You will receive plenty of study aids, 6-month unlimited access to the instructor-led online class, mock exam session, and 1-year instructor support. Therefore, I believe GreyCampus offers the most extensive post-training support to its students.
The only major disadvantage is the PMP exam simulator only includes 3 mock exams and also lacking in reporting functionality.  If you need more practice exam questions,  I would recommend purchasing the PMP exam simulators from PM-Prepcast so that you have sufficient exam practice using a top-quality exam simulator.
Additional Reviews
PMP Boot Camp Course Comparisons
Project Management Academy Review with Exclusive Coupon Codes