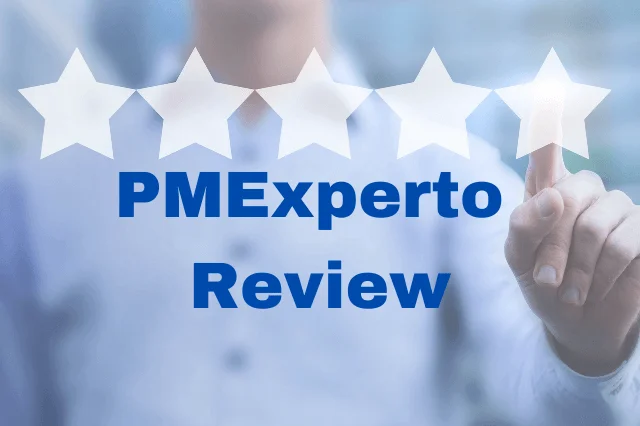 Last Updated on December 25, 2022 by andrewshih
What is PMExperto? In this PMExperto review, you will get a good perspective of the company, instructor, course package, pros & cons, and if PMExperto is right for you.
We also went the extra mile to negotiate with PMExperto to give you the most savings with an exclusive PMExperto discount code. Once you go through the review and feel PMExperto is your training provider, make sure to use the link and exclusive PMExperto coupon code to get the most savings.
Disclaimer: PMAspirant is affiliated with PMExperto. If you purchase with the affiliate link, we may earn a small commission at no additional cost to you.
What is PMExperto?
PMExperto was launched in 2014 by a group of senior project managers to provide project management courseware and training. All of the founders have at least 20+ years of project management experience across multiple industries such as IT, finance, manufacturing, and consulting.
PMExperto started with live classroom teaching, but the company has transitioned to online training. Over the years, the company has conducted hundreds of training and trained thousands of project managers over the years.
About the Instructor
The PMExperto's PMP course is delivered by Ashwini Rao.
Ashwini Rao is a Project Management Professional (PMP) and PMI-Agile Certified Practitioner. She is also a certified Six Sigma Champion by Systonomy and certified Six Sigma Black Belt by Honeywell.
Ashwini has 25+ years of project management experience, including 9+ years in software quality assurance, 5+ years in the manufacturing industry, and 10+ years as a freelance consultant. She has worked with companies such as Honeywell, Motorola, Kshema Technologies, and MindTree.
She has conducted project management training in many organizations – a few of the well-known companies include Caterpillar, HSBC, MetLife, Procter & Gamble, Royal Bank of Scotland, Shell, Societe Generale, Target, and VMWare.
You can read the full bio about Ashwini.
Exclusive PMExperto Coupon Code
I am pleased to work out an exclusive PMExperto coupon code with an extra 10% discount for all the PMP training packages. PMExperto is priced very competitively, and it is a bargain with the PMExperto discount code. I hope you will enjoy the savings.
Exclusive PMExperto Coupon Code: ASPIRANT10
PMP On-Demand Course and Package
PMExperto offers three package options depending on if you want the PMP Exam simulator and if you need longer access to the course.
PMP Course
+
Exam Simulator

PMP Course
+
Exam Simulator

Get exclusive 10% discount with ASPIRANT10 discount code
Course Package
35 contact-hour certificate
Knowledge Area quizzes
Glossary of PMBOK Guide terms
Important PMBOK Guide acronyms
PMP formula quick reference guide
PMP ITTO quick reference guide
Practice Workbooks
Tips for clearing the exam on the first try
PMExperto course offers outstanding support & guarantees
Unlimited email support from the trainer
PMP application support
Personalized exam preparation schedule
100% pass guarantee
Lifetime package option
The clock for course access only starts ticking after you start module 1.
There are 31 on-demand videos with 11 quizzes to test your learning after the modules. You will get the reference guides and workbooks as PDF documents.
The course alone, without the exam simulator, will include a full 180 PMP style full-length practice exam.
PMP Exam Simulator
The PMP Exam simulator offers over 1000 practice questions.
You get 2 PMP-style full-length exam simulations with a balanced mix of predictive and agile questions. There are plenty of agile practice questions with four quiz banks at 50 questions each for 200 agile questions.
In addition, you get 1 ITTO full-length quiz with 180 questions, 100 math questions, and another 200 mixed questions.
Here is the overall breakdown.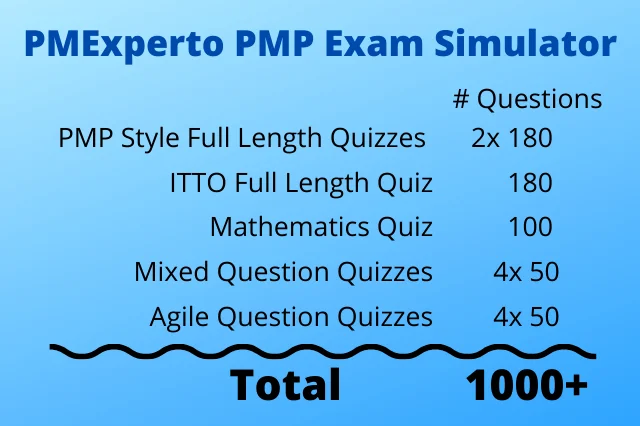 PMExperto PMP Exam Simulator (only)

Get exclusive 10% discount with ASPIRANT10 discount code
Free Demo Course and Demo Exam Simulator
PMExperto is not as well-known for most PMP aspirants. If you feel unsure if PMExperto is suitable for you and want to learn about the instructor and the PMP exam simulator, you can try out the demo course and exam simulator for free.
The demo course will give you access to 2 training modules, and the exam simulator will let you try out the interface and access to 25 questions.
PMExperto's Advantages and Disadvantages
PMExperto has a few distinct pros and cons for its PMP course and the exam simulator.

Pro
Unlimited trainer support using email
Typically, you will only get this level of service from a live instructor boot camp course and typically within 6 months after you complete the course. PMExperto offers unparallel support for students with unlimited email access to the instructor. If you have any questions about the course or the exam questions, you can reach out to the trainer via email for help.
Help you personalize your PMP exam preparation schedule
PMExperto will also help you plan and customize your study schedule. Planning your study and sticking to the schedule is important for preparing for the PMP exam. It is a unique service offered by PMExperto.
Help you complete your PMP application
For some PMP aspirants, completing the PMP application can be a struggle. It will be helpful to get feedback and recommendation for your application so that your application does not get rejected during the audit. Most on-demand providers do not commit to offering this service.
100% Pass Guarantee
If you don't pass the PMP exam on your first attempt, show PMExperto that you failed the exam, and the company will send you a refund. Even after you get the refund, you can continue to enjoy unlimited email support until you pass the PMP exam.
Very attentive staff and welcomes feedback
I asked PMExperto many questions when I wrote up this review, and all my questions were answered genuinely and in a timely matter. The team is very receptive and appreciates the feedback, and the company is committed to providing outstanding support and service, so happy clients will help spread the word.
Very affordable package
PMExperto's training package is very affordable. We worked out an exclusive 10% coupon code with Experto to give you the best discount available if you purchase via the affiliate link with the coupon code.

Cons
Mediocre PMP exam simulator
Overall, PMExperto's PMP exam simulator is adequate but not the best in the market.
There are over 1000 questions and plenty of situational practice questions like the PMP exam. Each question also references PMBOK and the page number in the answer keys.
However, it lacks more advanced features such as choosing time / un-timed, generating x number of random questions from quiz bank, and breakdown of strengths and weaknesses in knowledge/domain areas.
Most of the questions are primarily multiple-choice questions with a few fill-in-the-blank and multiple responses. Matching and hot spot style questions are not available yet.
PMExperto is actively working on enhancing the technology, and they will likely bridge some of these gaps soon.
Only Android app, no IOS app, yet.
In fairness, none of the on-demand course providers offers a mobile app, as far as I am aware. It is unique that PMExperto provides a mobile app for students. However, only an Android app is available, and PMExperto is building the iOS app.
Video is only accessible online
You will not be able to download the training video for offline viewing. You will need to have internet access or utilize your data plan if you watch from your Android device.

My verdict for PMExperto Review
The PMP video training is on-par with other PMP training providers and provides additional practice guides and references. The PMExperto's PMP exam simulator is functional but mediocre as it lacks some advanced features compared to the market-leading PMP exam simulators.
The level of support and guarantee you get with the training course is top-notch which you won't find elsewhere with another on-demand course. If you failed your PMP exam on the first attempt, you could get your money back with the 100% pass guarantee and still get email support from the trainer.
The PMP training package is priced very competitively, and when you purchase with our 10% off exclusive coupon, the training course is a bargain.
PMExperto may be your ideal choice if you are looking for an affordable PMP on-demand course with premium support that is typically only available with live boot camp course such as access to the trainer via email, personalize your exam preparation schedule, help you complete PMP application, and 100% money-back guarantee.
If you have general questions about PMExperto, please comment below, and I will be happy to answer or get the answer for you from PMExperto.
Frequently Asked Questions
Does the PMExperto PMP Exam simulator have enough agile coverage?
The Simulator contains four Agile Quizzes, each having 50 Questions. i.e. students will get 200 Agile Questions in our Simulator. In addition, all our full-length tests have the right mix of Agile and traditional questions.
Is the PMExperto's PMP exam simulator answer key any good?
PMExperto's PMP exam simulator answer key always references PMBOK and page numbers. According to PMExperto, the PMBOK Guide is the only authentic reference source.
Many providers, including some of the big ones, do not give PMBOK Guide references and explain the answers with their own bias. Moreover, none of the students have raised a concern about explanations. However, if there is any feedback on the question, PMExperto will take that constructively and change the question/options as required.
Can the PMExperto's PMP exam simulator help users to track progress?
Yes, students can see their answered, unanswered, marked for review questions during the test. The Simulator also provides details of each attempt.
Are the 180 questions included in PMExperto PMP course separate from the 1000+ PMP exam simulator questions?
No. The 180 Questions are part of the 1000+ PMP Exam simulator.
Can I extend PMExperto's 6-month access after expiration?
Typically, 6-month is more than enough to prepare for the PMP Exam. However, PMExperto will renew at a discount if someone wants to extend.
If the PMI updates the exam within six months, will the PMExperto's student automatically get the update if the license is still active?
Yes. If PMI updates the PMP exam, the student will automatically get the updated course and all the latest training material. However, there is a few months lag when PMI releases a new version of the PMBOK Guide and when the PMI exam is based on the new material.
What services are included with PMExperto's PMP application assistance?
PMExperto provides all the assistance you need with your PMP application. Examples include providing you with an excel template for filling project hours, answering all your queries, helping you with writing project descriptions, and reviewing the application before submission.
What features are supported on PMExperto's mobile app?
PMExperto's mobile app provides all the features that are available on the desktop browser, including access to watch training videos, take quizzes, and access to the exam simulator.
How many times does the PMExperto's student need to fail the PMP exam to provide a 100% money-back guarantee?
100% money-back guarantee works for 1st attempt; PMExperto will refund the training fee and continue to help the student with his subsequent attempts.
What is PMExperto's refund policy?
A student can ask for a refund within 7 days of purchase, provided he has not completed the first three modules.
If a student completes the first three modules, the refund guarantee becomes void. PMExperto will refund the full training fee and revoke his access to the course.
Related Articles
2023 PM Prepcast Review, Coupon, Videos
2023 PMTraining Review & PMTraining Exam Simulator Review
5 Best PMP Exam Simulators to Help You Ace the Test